Voting commences in Russian presidential election
Comments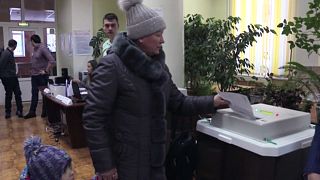 People across Russia have started voting in Sunday's presidential election, in which Vladimir Putin is seeking a fourth term in the Kremlin.
The size of the country requires one of the largest election operations in the world.
In the Pacific coast city of Petropavlovsk-Kamchatsky, polling stations opened at 2100 CET.
Voting will continue until polls close 22 hours later in the Baltic region of Kaliningrad, which is Russia's westernmost point.
Over 110 million people are registered to vote in the election.
There are eight candidates including Vladimir Putin hoping to win a six-year term.
Another victory for Putin would make him the longest-serving occupant of the Kremlin since Josef Stalin.
The dictator governed the Soviet Union for almost 30 years from 1924 to 1953.