Turkey, Free Syrian Army now in control of Afrin, Erdogan says
Comments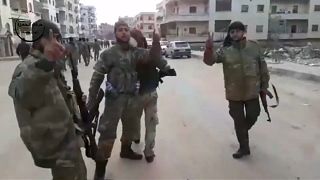 -
Turkish and Free Syrian Army forces took control of the town of Afrin in northwestern Syria on Sunday morning, President Recep Tayyip Erdogan has said.
Turkey's state-run Anadolu news agency quoted the president as saying the city was "entirely under control" from 0830 Turkish time (0630 CET).
It came after Kurdish YPG forces pulled out of the city over the weekend, almost two months to the day since Turkey launched a military operation to take the town and its surrounding province.
Turkish-backed Syrian rebel fighters said the rebels entered before dawn on Sunday.
More than 150,000 people have been displaced from the town in recent days, according to Kurdish sources.
Ankara says the YPG is an extension of the PKK, a Kurdish militant group that has been waging an insurgency in southeast Turkey since the 1980s.
But the YPG was an ally to the United States in other theatres of the Syrian civil war, including battles against the Islamic State group.