Greek court rejects Turkey extradition request
Comments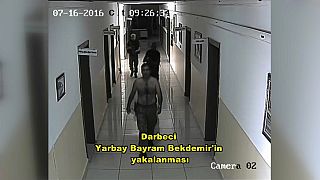 An Athens appeals court has rejected a demand by Turkey for the handover of eight Turkish soldiers who fled to Greece after a failed military coup in 2016.
It was the third extradition request Greek courts have refused in an issue which has strained relations between the two NATO allies.
The Greek court said it had concerns the eight would not face a fair trial in Turkey.
The soldiers are accused by Ankara of playing a direct role in the abortive coup against President Erdogan and face charges including attempted murder, military desertion and theft of military material.
Turkish pro-government media released a video with the moves of the eight servicemen moments before they fled to Greece by helicopter.
In the footage from a security camera some of the soldiers appear to be holding guns as they walk down a staircase towards the helicopter pad.
Turkish media report that experts identified the soldiers who then claimed political asylum in Greece.