Syrian Army intensifies its onslaught on eastern Ghouta
Comments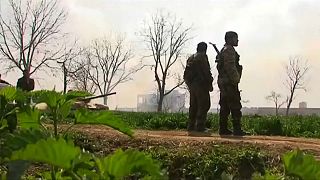 The Syrian army intensified its onslaught in eastern Ghouta on Saturday with advances that a war monitor and state media said had splintered the enclave, though a rebel official denied this.
Syrian state television broadcast from inside Mesraba, a town lying along the road connecting the northern and southern halves of the rebel-held stronghold.
The capture of Mesraba and advances into nearby farmland brought important roads directly under fire by the army, the Syrian Observatory for Human Rights said.
That has in effect cut the large towns of Harasta and Douma off from each other and the rest of the enclave, it added.