Greek police in raid against far-right extremist group
Comments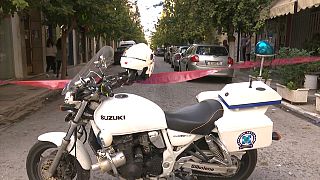 Counter-terrorism officers in Greece launched an operation in the early hours of Tuesday to arrest suspected members of a far-right extremist group calling itself Combat 18 Hellas.
House raids in various parts of Attica and in one more location that has not been disclosed have so far led to six people being called in for questioning in relation to several bomb and arson attacks.
According to a high-ranking member of the Hellenic Police (ELAS), the group has carried out at least 15 attacks on anarchist or far-left hangouts and squats, as well as vandalizing a memorial three years ago to Pavlos Fyssas, the musician who was stabbed to death by a member of neo-Nazi party Golden Dawn in September 2013.
Combat 18 Hellas is believed to be an offshoot of the British neo-Nazi organization that has been tied to white supremacist movements in the United States and other countries.
The '18' in the Combat 18 name relates to the position of Adolf Hitler's initials in the English alphabet.