Hundreds of motorists trapped amid severe snow in Scotland
Comments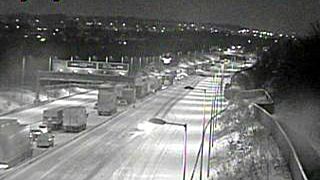 Heavy snow trapped hundreds of people on a motorway in Scotland overnight with fuel and other supplies having to be delivered by emergency services.
A red alert for snow is in force in the area, warning of a potential risk to life. It's the first time it's ever been issued in Scotland, and only the second time in the UK.
The Siberian weather is causing major disruption to road, rail and air transport, with hundreds of cancellations
Much of Europe remains caught in the grip of freezing temperatures - in Amsterdam, iconic canals have frozen over.
While in Denmark a fishing vessel was crushed after it became stuck in ice - its captain was safely rescued.
For many across Europe it should be a welcome return to milder weather next week