Lombardy enterprise rises above Italy's economic crisis
Comments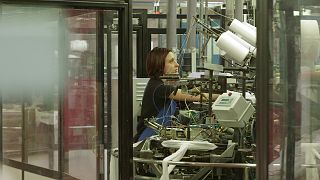 Lombardy in the north of Italy is an area known worldwide for the production of women's socks. This industrial district is the world leader for production and export.
Its history dates back decades and its major boost happened in the '60s and '70s.
Today there are about 250 companies based in this industrial district, but the recent economic crisis has hit hard.
"The worst moment for us, for this industrial district, was in 2011-2012 when we had the climax of the difficulties due to the Italian, European and the world crisis, said Massimo Bensi, CEO, Calze BC.
Difficulties the district has, for the most part, overcome thanks to its strength, pizzazz and technical values.
Not everyone did well, though.
Many companies were forced to close while others relocated production to Eastern Europe, particularly to Serbia where costs are lower.
Italian companies still blame a sluggish recovery on bureaucracy, the credit crunch and European laws.
"We have obstacles, rules and you do not know how to respect them," said Massimo Bensi.
"Sometimes respecting rules you do not need is tough, so instead you just have to focus on production, on selling, on making a turnover and collecting a profit."
In the last year and a half, investments are up. It is a sign of a renewed dynamism that will open the door to a new chapter in the history of this district.
One of the largest steel processing companies in Italy, and the world, is Marcegaglia. Its founder Steno Marcegaglia built it from scratch in 1959.
"I'm doing a job started by my mother my father and my uncles; everybody kept telling me: you've got your company in your blood. At school, teachers kept saying; he thinks too much about his socks. I hope the new generation, my children, will be able to carry forward with strong, original ideas. If they believe in the project, it will take off."
Like other companies operating in international markets, characterized by a dynamic capitalism, Marcegaglia managed to brush off the crisis, growing stronger.
"We made huge investments just before and during the crisis," said Am Antonio Marcegaglia, Amministratore Delegato Marcegaglia
"We grew because of this, even though that growth was more modest compared with previous years. It was slightly higher than the general growth."
Italy remains the second European industrial power —seventh worldwide — and figures suggest economic recovery is on its way, even though bank credit is still very depressed.
Antonio Marcegaglia is positive, though:
"Dad began in 1959, from zero, he came from a very poor family. Certainly, at that time the context of an Italian and European recovery helped the growth and the building of this empire.
Today it would be more difficult but I think the characteristics of a successful entrepreneur — imagination, innovation and ability to calculate risks — are valid all the time."