Comcast takes on Rupert Murdoch with $31 billion bid for Sky
Comments
By Alastair Jamieson, NBC News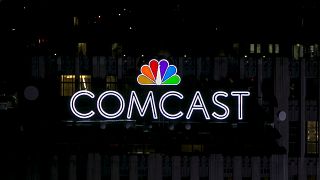 Cable giant Comcast on Tuesday announced a $31 billion takeover bid for Sky, potentially scuppering a previous offer for the European broadcaster from Rupert Murdoch's 21st Century Fox.
"We believe we are a better fit," Comcast chairman and CEO Brian Roberts said in a statement.
21st Century Fox had agreed to buy the 61 percent of London-based Sky it does not already own, but the deal was stalled by British regulators who said it could give Murdoch too much influence.
Roberts described Sky as "one Europe's leading television content creators and distributors," with 23 million subscribers across Europe, and "a terrific fit with Comcast NBCUniversal."
"Comcast intends to use Sky as a platform for growth in Europe," Roberts added. "We already have a strong presence in London through our NBC Universal international operations, and we intend to maintain Sky's U.K. headquarters. Adding Sky to the Comcast family of businesses will increase our international revenues from 9 percent to 25 percent of company revenues."
Comcast's offer pits Roberts against Murdoch, the 86-year-old tycoon who helped to launch Sky in Britain, and who has been edging toward finally getting his hands on Sky after he first bid for the company eight years ago.
Murdoch agreed in December to sell the entertainment arm of Fox to Disney for $52.4 billion — a deal that is awaiting U.S. regulatory approval.
Comcast is America's largest cable operator and the owner of NBC News' parent company NBCUniversal. NBC News is a minority shareholder in Euronews.