Small Australian town claims mullet as its own with first hairstyle competition
Comments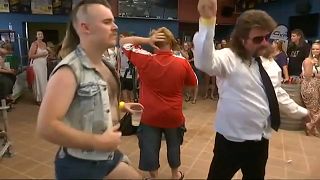 A crime against fashion or a defining trend that is overdue for a revival? Whatever your opinion about that 70s and 80s staple of male style, the Mullet haircut, one town in Australia is determined to honour it.
Over 150 contestants gathered in the country town of Kurri Kurri.
"I've had mine since 1972, so most of the guys I'm competing with probably weren't (even) born then.," said one competitor.
The "greatest mullet of all" was discerned as Shane "Shag" Hanrahan, who has been growing his mane since 1986.
"Here in Kurri, we believe that we actually created the mullet. We've had it the longest and we thought we would give our locals a chance to strut their stuff and see, not only if they've had it for the longest, but if they're still up with current trends and rocking the mullet," says the event's organiser Laura Johnson.
The event was rounded off with period classics that had the dancefloor heaving, although there appeared to be some interlopers present, sporting mullet wigs, and not the real thing.