Samsung S9 delights smartphone showcase in Barcelona
Comments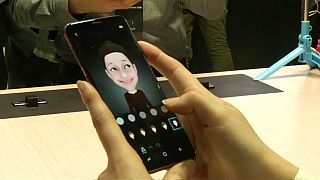 It's the time of year for smartphone manufacturers to showcase their shiny new phones at the annual gathering in Barcelona at the Mobile World Congress.
The world's biggest smartphone makers are showcasing their newest, coolest and smartest gadgets. Hardware and software improvements are only the beginning, as the ambition goes well beyond.
'Creating a better future' is the official motto of this year's Mobile World Congress, and the un-official one: 'creating a better phone'. Smartphone companies brought to the convention their latest pieces of technology.
What does a 'better future' look and feel like?
AR Samsung Emojis
New and improved camera capabilities are the main thrust of Samsung's latest flagship Galaxy smartphones. The Galaxy S9 and the S9+ bring a camera with variable aperture that lets more light in, even when used in darker conditions. The device also brings a new super slow-motion function which can make a 0.2 second event into six seconds of normal film.
Users are mostly reacting to the revamped screen design that brings a new AR emoji which turns the user into an avatar based on a selfie.
Nokia's line-up plays on nostalgia for the 1990s
It has come up with a redesign of the Nokia 8110, a phone first released in 1996 that bears more than a passing resemblance to a banana. The larger of the two new models, the S9+, also gains a second rear camera.
The phone has 4G, Facebook and some form of access to Google's Assistant, Maps and search, as well as email, texts, Twitter and… the cult game 'Snake'.
The Huawei 'Matebook X'
The Huawei 'Matebook X'
Huawei opted for not revealing a new smartphone at the event. By late march the company will launch its flagship P-20 device in Paris.
While Huawei has been making phones for years, the company only started making laptops in 2017. They have now launched a second version of the Matebook X, the Matebook X Pro - a 14-inch notebook with a camera hidden in the top row of the keyboard.
Huawei makes clear that they want to lead the 5G market and presented powerful laptops and its CPE 'modem of the future'.
LG's AI Camera
LG also presented its new device – an updated version of its V30 - the LG V30 S- powered by an AI camera.
"This new phone is similar than the LG V30 but the brains are totally different, it has Artificial Intelligence it does a lot of the thinking for you particularly with the camera, it points to an object and it tells you what the object is and it sets the adjustments to take the best possible image" said Ken Hong, LG Electronics´s Senior Director of Global Communications.
Artificial Intelligence allows the LG phone not only to control other devices but to communicate with them. Meaning you can even turn on your coffee machine with the device.