The new Samsung Galaxy S9: a round-up of the reviews
Comments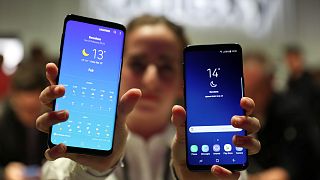 The Samsung Galaxy S9 is here and can be pre-ordered now in Europe (or March 2 in the US) until its worldwide release on March 16.
Electronics giant Samsung unveiled the new model on Sunday at the Mobile World Congress 2018 in Barcelona, and hands-on reviews have been flooding in since.
On the surface, Samsung's next generation Galaxy phone is strikingly similar to its predecessor, the S8, but it does offer some design and software improvements that will please ardent fans of the series, experts say.
Here's our round-up of what critics have made of the Samsung S9 and S9 Plus so far.
Hefty price tag
At €841 (£739) a pop, the S9 will be more expensive than the S8's launch price of €799 (£689) but the jump in cost for the S9 Plus will be steeper. Customers will need to fork out €997 (£869 in the UK) for the bigger handset, a €100 or £90 increase from the S8 Plus (€897 in the EU, £779 in the UK).
"You're looking at a £50 price hike in the UK for a phone which is an incremental upgrade," writes John McCann for Techradar.
S8 design flaw is fixed
The new handset is remarkably similar to the older model, but some small changes differentiate the two. Although many hoped it would become an in-screen function, reviewers remarked that the re-positioning of the fingerprint scanner to below the camera was still a welcome improvement.
"Last year's model made you stretch your finger awkwardly to hit the fingerprint target. No more," said Jessica Dolcourt from CNET.
Although an unsatisfied Max Parker from TrustedReviews.com adds: "The scanner's surface still feels a tad on the small side."
The speakers have also been upgraded in the S9. They now produce stereo sound and are 40% louder than those on the S8, according to Samsung.
"It sounds great, with a relatively good spacial audio effect," says McCann.
'World-first' camera technology
With every passing year, smartphones are getting better at rivalling digital cameras and the S9 is no exception.
The smartphone has become the world's first – excluding the China-only W2018 flip-phone – to feature two adjustable apertures: from a bright f/1.5 to a smaller f/2.4.
"The results … are phenomenal," writes Matthew Reynolds for Wired, adding: "Samsung's nifty use of dual apertures might have finally made it possible to take decent photos in dark conditions."
The S9's low-light performance has been improved further by a claimed 30% reduction in noise, and reviewers noted the addition of a slow-motion recording option, which can capture up to 960 frames per second at 720p resolution.
"The resulting clip looked crisp and detailed," says Reynolds, who watched Samsung demonstrate the feature in Barcelona. Meanwhile, Endgadget's Cherlynn Low is more critical.
"During our preview, this feature behaved erratically," she writes.
"It worked well when the subject was perfectly still before something moved into the frame, but most other times, it didn't use slo-mo when you'd expect."
New and upgraded features to rival the iPhone
With Apple's Animoji in mind, Samsung has launched AR Emoji, a feature which lets users create customised 3D avatars using selfies. The avatars can then be used to make expressive stickers for messaging apps, or be used as a placeholder for video messages.
Its reception among critics has been lukewarm at best.
"The experience was definitely sub-par," says Dolcourt.
She adds: "AR Emoji need to be much more nuanced to feel like 'you', and they need to track your smile. The avatars didn't match our skin and hair tones, and were unable to naturally smile when we did. Creepy."
Piling on the scepticism is Techradar's McCann, who writes: "The quality of the likeness varies quite a lot, and you may question if the character on screen is really based on you."
Samsung's virtual assistant Bixby also boasts some innovative new features in the S9. It can be used to count calories when the camera is pointed towards various foodstuffs. An estimated figure is then fed and logged into the Samsung Health app. Another addition is the live translation function which can translate signs and notices in seconds while connected to the internet — but with variable accuracy.
Brian Heater from Techcrunch reports: "The translations aren't great — as evidenced by the 'You're welcome feed the animals do not' — and the text looks a bit like it was cut out of a newspaper for a ransom letter, but it's an impressive and useful tool nonetheless."