Winter Olympics: South Korea says North Korea may be more open to talks with the United States following the Pyeongchang games.
Comments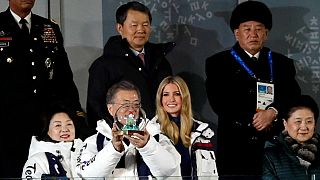 As South Korea brought the curtain down on its "Peace Games" there was little warmth between dignitaries from the United States and North Korea.
South Korea President Moon Jae-in hoped to use these Games as an opportunity to engage with the North.
Despite the cool body language, Moon's efforts may be bearing fruit.
The South's presidential office said on Sunday that members of the North Korean delegation had expressed their openness to talks with the United States.
Meanwhile, over 100 demonstrators had travelled to Pyeongchang by bus upset by the North's presence at the ceremony.
The choice of Kim Yong-chol to lead their delegation has caused controversy as he is accused of being responsible for sinking a South Korean naval boat in 2010.
Winter sports athletes danced and sung together at a vibrant closing ceremony of the Winter Olympics, which saw the frosty relations between the North and South thaw, beginning with the North sending a delegation of athletes, officials and cultural performers and the countries marching under one flag at the opening ceremony.