South Korea and North Korea to talk
Comments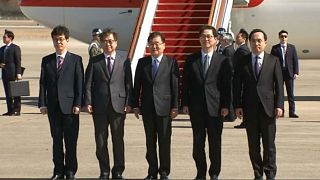 South Korean officials have taken advantage of the thaw following the Winter Olympics in Pyeongchang to embark upon a visit to North Korea. They are expected to be treated to dinner by their neighbour's young leader, King Jong-Un, as part of the first such visit since he took power in 2011.
The South Korean delegation includes ministerial-level envoys: national security adviser Chung Eui-yong, vice unification minister Chun Hae-sung, and intelligence chief Suh Hoon. Along with their colleagues they were met in North Korea by Ri Son-gwon, the country's reunification chief.
It is hoped that talks might result in the reining in of the North's nuclear and missile programmes.
US-North Korean relations
One of the other main goals of the talks is to reopen dialogue between the North and the US. President Trump said at the weekend that he would be prepared to consider such a development, though he insisted that Pynongyang would have to "denuke" first, a demand that North Korea has said is "preposterous".
Before the start of the Winter Olympics, the relationship between the two countries hit a new low, with both parties threatening the other with nuclear annhilation. However, the Games saw the two countries come closer together, even if the US tried to distance itself from North Korea during the event.
A potential setback to progress arose with the resignation of the US top diplomat on North Korean policy, Joseph Yun. He is thought to have been in favour of compromise.