The talking thaw: North and South Korea
Comments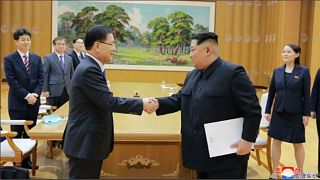 North Korea's leader Kim Jong-Un has told South Korean envoys his country is willing to begin negotiations with the United States on abandoning its nuclear weapons and that it would suspend all nuclear and missile tests while such talks were ongoing.
If the statement is corroborated by North Korea, it would be the first time Kim Jong-Un has indicated he is willing to discuss giving up nuclear weapons in return for security guarantees from the United States.
North Korean leader Kim Jong Un also expressed his "firm will to vigorously advance" inter-Korean ties and pursue reunification in his first ever meeting with senior South Korean officials in Pyongchang.
The diplomatic mission from South Korea, led by a top national security official, Chung Eui-yong, travelled to the North with a mission to foster dialogue between North Korea and the United States.
The visit, during which Kim Jong Un hosted a dinner, is a sign of the increasing thaw in relations between the two Korean nations, made possible because of diplomatic efforts before the Winter Olympics.
The official North Korean news agency, KCNA, reported that "Hearing the intention of President Moon Jae In for a summit from the special envoy of the south side, [Kim Jong Un] exchanged views and made a satisfactory agreement [...] He also made an exchange of in-depth views on the issues for easing the acute military tensions on the Korean Peninsula and activating the versatile dialogue, contact, cooperation and exchange".
However, mission is not yet accomplished, as no mention of North Korean talks with the US has been made. President Trump said that he was willing to engage once Kim Jong-Un had "de-nuked", a condition the North Korean leader dismissed as "preposterous".