An influx of cold air from Siberia causes the coldest snap of the season
Comments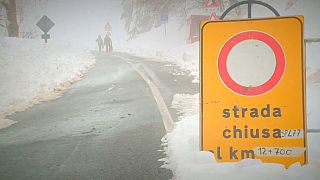 An influx of cold air from Siberia has caused temperatures to plummet across parts of Europe.
In Poland two people have died of hypothermia in the last 24 hours when the mercury dropped to over minus 10 degrees celsius during the day and minus 20 at night.
Health officials have urged people to look out for the most vulnerable and to alert the authorities if they see homeless people sleeping outside. 
The coldest snap of this season's expected to last untill early March.
In Romania an orange warning for blizzards and frost has been issued for the next two days.
The Mayor of Bucharest has closed the kindergartens, schools and high-schools for the following two days and recommended people to use public transport instead of their cars. 
Paramedics claimed that the number of calls exceeded their capacity to reply. People called to announce they had got stuck or that they are facing hypothermia. 
54 people have already died of influenza in Romania - twice the number compared to last winter. 
Italy's Apennine Mountains have also been buried in snow, which is also hitting lower altitudes in the centre of the country.
Strong winds and low temperatures are expected over the next few days. 
Snowflakes have been spotted in Verona and Arezzo and are even expected in Rome.