'Beast from the East' continues to spread across Europe
Comments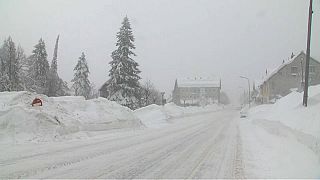 Arctic air is continuing to send temperatures plummetting across much of Europe.
A high-level red alert for strong snowfall has been declared for two regions in Bulgaria, where 40 cm of snow is expected as well as blizzards and snowdrifts.
Sweeping in from Siberia the weather front nicknamed the 'beast from the east' has brought the coldest end of February and start of March in years for Europe.
Temperatures in Moscow dropped to nearly minus 20 degrees Celsius on Sunday, the coldest night this winter. despite the approaching spring.
"The vast anti-cyclone covering the Scandinavian peninsula is actually really big and spreads across to Poland. And so the head of this anti-cyclone brought cold from the European part of Russia to Eastern Europe."
The mountainous Croatian regions have been struggling over the last few days and volunteers have been trying to reach isolated, elderly, households to provide them with food, medicines and firewood supplies.
Even Rome saw a rare snow storm leaving the usually bustling central square eerily empty.