UK Brexit cabinet 'united', but lingering questions remain
Comments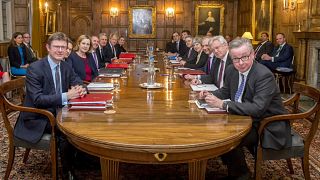 On Thursday Theresa May took her Brexit cabinet for an away day to Chequers, the Prime Minister's country residence.
She set a strict 10pm deadline for them to finally decide what deal it is the UK wants to make with the EU.
But so far the only thing thats been officially shared from that crunch eight-hour meeting is a photo and the dinner menu, Guinness short rib of Dexter Beef.
Despite the clear differences ministers have had in the months since the referendum, all were said to have left Chequers united and "rather happy".
The prime minister is reported to have "played a blinder" in persuading the Brexiteers to shift their position and they left with a broadly agreed opening pitch to the rest of the EU.
But the Brexit side are spinning that "divergence has won", with the claim that the UK will go for so-called mutual recognition with the EU on goods.
One concession does appear to have been made, though, regarding the transition period. Government papers have revealed an indefinite "status quo" will be in place meaning the UK will abide by new EU laws and citizens will have the same rights during that period.
Theresa May now has to get the agreement of her full cabinet in a meeting at Number 10 on Tuesday (February 27) before setting out her position to the country in a speech on Thursday (March 1).
But then there's the challenge of getting it by the other 27 EU member states and lingering questions about the Northern Ireland border arrangement.
Monday will also see opposition leader Jeremy Corbyn making his own Brexit speech. His party, Labour, have been less than clear about what future relationship they want with the EU but reports are their position has shifted. They now want to keep Britain in a customs union putting them at odds with the government.