Iceland leads the way on gender parity
Comments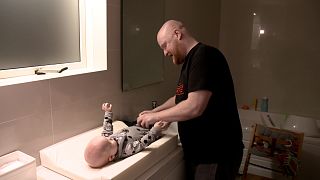 Earlier this year, Iceland became the first country in the world to introduce a law that requires equal pay for men and women.
The Scandinavian island also ranks first in the World Economic Forum's gender equality report.
So what is Iceland doing right?
Work & Wages
The Reykjavik branch of household megastore Ikea was a pioneer in implementing the new law.
Half its staff and the majority of managers are female.
And that's good for business, says CEO Thórarinn Ævarsson:
"It's absolutely impossible for the long term to have a profitable company unless you have your staff happy. Happy staff, they are producing more, they are selling more. And if half of your staff is not happy, it's absolutely impossible to have a decent business."
Parenting
In Iceland, equal rights start at home. Men and women are entitled to three months parental leave each per child, plus an additional three months to share between them.
Hjálmar Örn Jóhannsson is taking parental leave so his partner, Ljósbrá Logadóttir, can return to her job as a director at a major Icelandic bank.
"In the beginning when they (babies) are growing and getting to do new things and learning, it's a good thing for me to get the connection," Hjálmar says.
"And for me," adds Ljósbrá, "it's really important that I can (re)turn back to my job and I still have my job, and have high salaries, as high as the men".
Education
Fighting discrimination is part of the curriculum at Icelandic schools.
Gender study classes were first here launched ten years ago. Now, they're compulsory at most high schools.
Hanna Björg Vilhjálmsdóttir teaches gender studies at Borgarholtsskóli school.
"There will not be equality, nowhere, in any society, if the school system is not an active part in it. We mould their ideas here".
Room for improvement
But even Iceland still needs to evolve.
Alongside its record on equal rights, the country still has high rates of violence against women.