"Black Panther" has its European premiere
Comments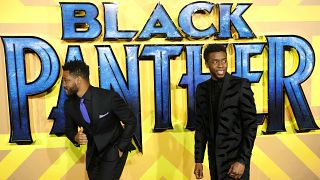 A black themed carpet was laid out for the star at the European premiere of "Black Panther" in London.
The big budget film from Walt Disney Pictures and Marvel Studios has an almost entirely black cast led by Chadwick Boseman as the superhero "Black Panther" - the first time a Marvel film has been led by a person of colour.
"It's not as, culturally like significant as President Obama being president but it does have a similar feeling that people take it for granted you have little kids who think that's normal," said lead star, Chadwick Boseman.
Black Panther is on track to become one of the biggest ever superhero films according to its ticket pre-sales.
The film is reported to have already broken records - having more pre-sales of tickets than any other Marvel movie and is expected to make as much as 120 million euros in its opening weekend - which would seal the franchise's immediate future.
"I think it's important , I mean I didn't have that really growing up you know my ten-year-old self didn't have many superheroes to kinda be able to identify with," said actor, Michael B Jordan.
"So I think for the kids now to be able to dream and imagine, to see themselves, to see different possibilities in an empowering way, not your typical stereotypes that we're used used to seeing in cinema I think is extremely important now for the future."
Oscar winning actress Lupita Nyong'o was among the stars at the premiere, along with Oscar hopeful and co-star Daniel Kaluuya along with Andy Serkis, Letitia Wright and Martin Freeman.
"Black Panther" is directed by African American director Ryan Coogler and will roll out worldwide in mid-February.