British sausage roll giant Greggs offers customers candle-lit Valentine's Day meal
Comments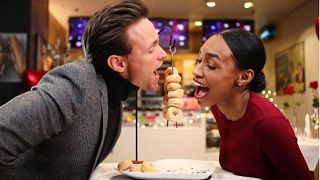 Copyright

COURTESY: GREGGS
Known for its baked goods, Greggs is usually the place hungry customers grab a sausage roll or pasty on the go.
For Valentine's Day 2018, however, the chain is offering couples a cheaper alternative to a champagne dinner—a meal in one of their shops, complete with prosecco.
An advert for the special Valentine's Day reservations was the second-most-popular subject on Google's barometer of popular topics, Google Trends, on Monday.
The video shows a couple enjoying a candle-lit dinner and food that is described Greggs confectionary "with a twist".
Most users on Twitter were keen on the idea...
 ...but some reacted with scepticism.
The menu comes in at £15 (€17) on a night when most restaurants hike up their prices.
Customers in the bakery chain usually have to order at the till but the couple in the advert is served on by a dapper waiter in a black tie and tuxedo, as a cellist plays nearby.
The Greggs eateries will be transformed into restaurants for the night, reminiscent of high-end restaurants, with romantic music, roses and candelabras and chic table arrangements.
Five branches in major cities across the UK (London, Manchester, Glasgow, Newcastle and Cardiff) are now taking reservations for February 14.