Puigdemont asks for judge's permission to attend inauguration
Comments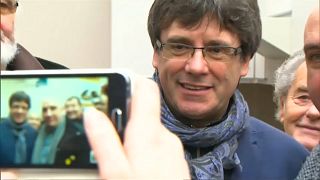 The former president of Catalan, Carles Puigdemont, says he plans to seek judicial permission to attend his inauguration as president after Spain's top court ruled that he couldn't be there unless a court allowed it.
At a New Year's drinks party in Brussels on Sunday, organised by The New Flemish Alliance, Puigdemont was reluctant to speak to reporters.
When asked if he'd be going to Spain he said: "I've clearly said what I will do. I'm not going to say anything more."
On Saturday Spain's Constitutional Court ruled that Puigdemont could only attend the session if he was physically present at parliament and had a judge's permission to be there.
Spanish Prime Minister Mariano Rajoy saw that ruling as a victory in his campaign to stop Puigdemont from returning to the country.
The current Catalan president, Roger Torrent, last week named Puigdemont as the candidate to head the Catalan government after separatist parties won a majority in December's regional elections.