Floodwaters in Seine river peak in Paris
Comments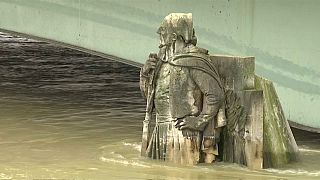 The swollen Seine river in Paris has now peaked at 5.84 metres, four metres higher than its normal level.
But it's still not approaching the record height in 1910 of over eight and a half metres
Around 1,500 people have been evacuated from their homes in the greater Paris region, while a similar number of homes remain without electricity.
Seven of the city's underground stations are closed, as are some roads next to the Seine.
Weeks of rainfall have come to end but it'll take another week for the water level to fully recede.
It's the second big flood in two years leaving many Parisians to wonder if this is evidence of climate change. Downstream of Paris there are flood alerts in eleven departments where water levels are still rising.
French meteorologists say the months of December and January were the third wettest ever since records began in 1900.