Misery for flooded Paris suburbs
Comments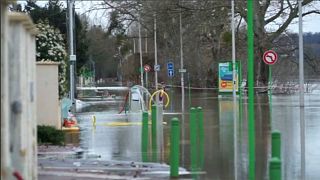 After double the usual January rainfall, the flood level in Paris has peaked at 5.84 metres.
The swollen river Seine has put the famous Bateaux Mouches out of action (they would not fit beneath the bridges) and forced one of the Louvre's galleries to close, with other museums and galleries on high alert.
But, away from the tourist attractions, residents of many suburbs to the west of the French capital have found themselves wading into their homes after the river burst its banks. Basements and gardens are submerged, and in many areas gas has been cut off, meaning no heat, and no hot water.
In Montesson, in the Yvelines, one couple of locals explains that, 50 years' earlier, there had been a debate about building a bigger dyke to protect the town from flooding:
"The inhabitants of Montesson didn't want to extend the dyke they were building because it would hide their view of the Seine... Now they've had enough of being flooded each time the water level rises."
If they're hoping to be put out of their misery, the people of Montesson may be in for a long wait. Weeks of rain have saturated the ground, meaning it could take several days, or even weeks, for the flooding to subside.