Macron: Britain will not access the single market post-Brexit
Comments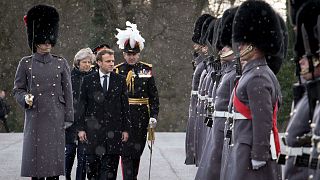 -
French President Emmanuel Macron applauded the strength of Franco-British ties despite Brexit but said he would not allow Britain's financial industry to have privileged access to the EU single market at a joint press conference with British Prime Minister Theresa May.
"There can not be a differentiated access to the single market of which financial services are part, said Macron.
Macron arrived in Britain for the first time as French president for talks on reinforcing security and boosting cross-Channel cooperation.
The two sides are expected to commit to joint military operations including a combined expeditionary force.
In addition, the UK has agreed, after lobbying from Paris, to help with security at Channel ports which have become a focus for migrants. Around 50-million euros will be sent to France to help improve fencing, CCTV and technology.