North and South Korea to march under single 'united' flag at Winter Olympics
Comments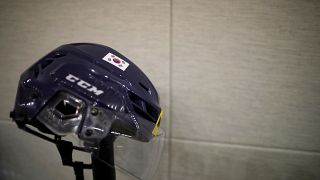 Copyright

Reuters/Kim Hong-Ji
North and South Korea have agreed to march under a single flag during the opening ceremony at next month's Winter Olympics in Pyeongchang in the south.
The two countries will also field a combined women's ice hockey team for the Games, a joint statement released by Seoul's unification ministry said.
Both moves followed rare talks in the truce village of Panmunjom.
However, Seoul's proposal for a joint ice hockey team triggered an angry response from South Korean athletes, knowing they may have to play alongside total strangers.
Japan has also expressed concern over the deal with Foreign Minister Taro Kono saying the world should not be naive about Pyongyang's "charm offensive" over the Olympics.
North Korea is expected to send a 550-member delegation, including 230 cheerleaders, 140 artists and 30 Taekwondo players to the Games. 
Seoul and Pyongyang have been in talks since last week -the first time in more than two years - about the Olympics. The discussions have offered a brief respite from rising tensions over the North's missile and nuclear programmes. 
The two Koreas are technically still at war because their 1950-53 conflict ended in a truce and not a peace treaty.