Take a look at the latest trends at the Milan Fashion Week
Comments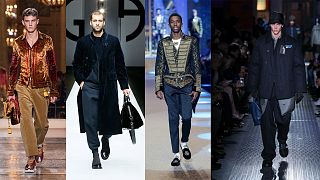 Take a sneak peek at the latest fashion for men: from Prada's black nylon to Emporio Armani's youthful tailoring.
Miuccia Prada returned to black nylon and boxy shapes for men and women in her latest collection. Despite the collection's utilitarian looks, Prada said she also wanted to convey elegance.
DSquared2 headed west with their latest collection: the line featured cowboy hats, leather boots and fringes on riding pants, Native American ornaments.
The Marni fall '18 show had the footwear as the most important thing and it was presented with oversized jackets and trousers hand-painted with armchairs, monkeys or musical instruments. Suits, puffer coats, nylon jumpsuits and anoraks round out the collection. The rule "is that there are no rules", Risso said.
Dolce & Gabbana targeted millennials with their latest collection. Several famous young influencers walked, like Pamela Anderson's son. The wide range of looks included suits styled formally, elaborately embroidered military-style jackets and floral suits, furry jackets and heart-shaped backpacks.
Versace's winter menswear show was about as homey as it gets in the take-it-or-leave-it ethos of Versace. Pillow plaids became suit jackets worn over archival prints in seafoam green, hot pink and yellow. The trousers were kept short to show off the new tennis shoe.
Arching zippers, tufts of fur and smooth velvet gave zest to Emporio Armani's youthful tailoring for next winter and fall.