Catherine Deneuve apologises to sexual assault victims
Comments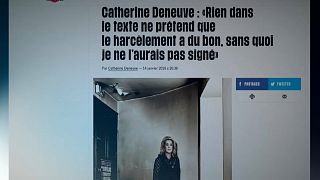 French film star Catherine Deneuve says she stands by her signing of an open letter criticising the #MeToo movement but apologised if she had offended victims of sexual assault.
In a second letter this time published on the Liberation website Denueve says she "warmly greets all victims of these hideous acts who may have been offended ..... but there was nothing in the original letter which said anything good about harassment otherwise she would not have signed it."
Last week Deneuve triggered feminist outrage by joining 99 other prominent French women in a letter published in Le Monde accusing the Hollywood anti-abuse campaign of censorship and intolerance. She defended a man's right to "pester" women and branded the campaign as a "witch-hunt" and a threat to sexual freedom.