Italy and France urge Europe to increase efforts to ease migrant crisis
Comments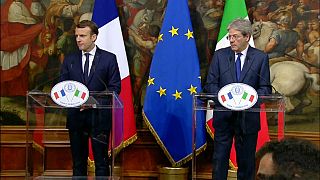 The French President has called on Europe to redouble its efforts to deal with the migrant crisis.
Speaking at the end of his two-day trip to Rome to strengthen Franco-Italian ties, Emmanuel Macron, said although the number of people coming from the African continent has dropped the issue is far from resolved.
"There is still an extremely large number of people who are trying to cross the Meditterranean; and we must never forget we're talking about men and women. Men and women who continue to die on these routes of necessity through the Sahara and Sahel or once they're on the high seas," said Macron.
Italy's Prime Minister Paolo Gentiloni reiterated that no country in Europe can escape from their responsibilities in seeking solutions for the migration issue.
Italy and France have also pledged to set up a more "systematic and favourable" bilateral treaty to reinforce their cooperation on industrial and cultural affairs.