2018 already proves deadly for migrants
Comments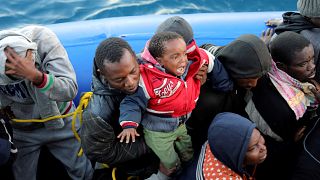 -
Less than two weeks into the New Year and 81 migrants have already died trying to reach Europe.
The latest fatalities occured on Tuesday night when a rubber dinghy deflated at sea. The Libyan coastguard rescued 16 people but at least 50 others are feared dead.
Two other boats were also rescued and 300 survivors brought to Libya's capital, Tripoli.
One woman sat on the ground, sobbing, distraught at having been brought back to Libya, where migrants often live in terrible conditions: "I feel so disappointed that I couldn't get to where I want to go," she cried.
But in other ways, this woman is fortunate.
According to the International Organization for Migration, or IOM, more than 3,000 people died last year while trying to cross the Mediterranean.
Major land routes into the European Union -- the Western Balkan route, through Hungary, and the Eastern Border route through Slovakia -- have been closed or greatly restricted.
So many try to reach Europe by sea - aiming for Greece, Italy and Spain.
But that means crossing the Mediterranean - what the IOM calls the world's deadliest border - and where more than 12,000 people have drowned since 2015.
With 2018 off to a deadly start, migration remains Europe's greatest challenge. It's now in the hands of Bulgaria - which takes up the EU presidency under fire over its own track record of closing its borders to migrants.