Spanish drag queen participates in Three Kings Parade amidst backlash
Comments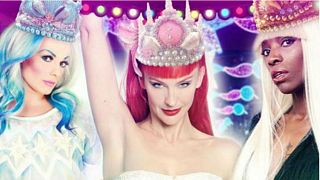 Many conservatives were not happy with a neighborhood's decision to hire a drag queen for the role of one of "Three Wise Men" in the January 5th Epiphany parade.
A group in Vallecas, a district in southern Madrid, took the bold step of choosing drag queen 'La Prohibida' (The Forbidden) to play one of the kings in the annual parade.
 Actress Roma Calderon and female hip-hop artist Dnoe Lamis were chosen to play the other two kings.
The all-female float was proposed by the local LGBT organisation Orgullo Vallekano and approved Madrid's left-wing mayor's office.
On January 2, La Prohibida tweeted that she and her co-hosts would wear stuffed animal pyjamas at the parade. 
But not everyone was happy with the decision. Conservative politicians from the People's Party (PP) and Ciudadanos threatened to take legal action.
"The Three Kings from Vallecas are another example of how Manuela Carmena is trying to "change" Christmas traditions. We support Gay Pride and other celebrations but we believe that the Three Kings Parade should be respected like any other religious celebration," tweeted PP council spokesman for Madrid, Jose Luis Martinez-Almeida.
Begoña Villacis, a city councilor for centre right Ciudadanos, tweeted that the parade should stick to tradition.
"All fights for civil rights should be fought publicly but the Three Kings Parade should remain what children know it as, a Three Kings Parade."
At the end, the float carrying the three women was allowed to participate in the parade.
The traditional Three Kings parade takes place the night before Epiphany or Three Kings Day when Spanish children traditionally receive their Christmas presents.