Blair rejects Wolff's spy claims as "absurd"
Comments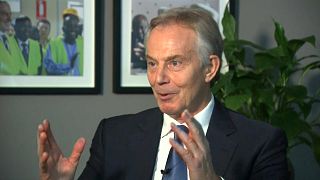 The former British Prime Minister, Tony Blair, has told Euronews that some aspects of Michael Wolff's explosive book about the Trump presidency are a "complete fabrication."
Donald Trump and Mr Blair may have very different views on politics but they appear to agree when it comes to criticising the accuracy of Mr Wolff's book, "The Fire and the Fury: Inside Trump's White House."
In particular, he referred to claims he'd said British intelligence may have spied on Trump during his presidential election campaign:
"This is an example of the crazy way that news and politics works today," he said.
"I mean this story was never put to me before it was written in this so-called book. It is a complete fabrication from beginning to end. I've never had such a conversation, not in the White House, not out of the White House with the person in the White House, with anyone else at anytime, any place.
"And to anyone who actually knows about these things, the idea that British intelligence services would start to interfere and spy on American presidential candidates is utterly absurd.
"So I mean, there it is, this is the way it happens. This thing is written. I am denying it but it's already halfway around the world. Well it's just a crazy situation."
His comments come as lawyers for Donald Trump are demanding former adviser Steve Bannon "cease and desist" from talking about Michael Wolff's book - which they're trying to stop from being published.