Weah sets his goals for Liberian presidency
Comments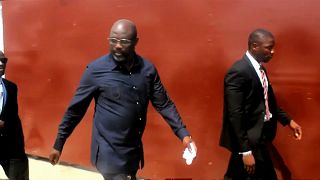 Liberia's new president-elect George Weah has given his first interviews since the country's first democratic transfer of power since 1944.
In his six-year term he said he wanted to help the country begin exporting agricultural products and restore decrepit infrastructure.
Seated outside his unfinished new house on a quiet dirt backstreet near the capital Monrovia, where a concrete sign announces, "Friends of Weah say welcome", the 51-year-old ex-soccer star began to tentatively fill in some of the gaps in his vague campaign promises.
"We are going to put a government in place. Sure, we have our economists that will put us on track and as you see it's the first peaceful, democratic transition, that the government have their team and we have our team and we are discussing. They are going to drill in to know what is in our coffers and then we take it from there, what we can do to move forward. So we are putting that team together," he said.
Mass youth support helped Weah to a more than 60% landslide, but Liberia is one of Africa's worst-performing economies. and prices are low for main exports iron ore and rubber.
"Well, I want to encourage our people to grow more food and be self-sustaining, so we are able to also export. The government has a responsibility to have agricultural crops to bring in good programmes, agriculture programmes, bring people the right to grow their own food. We have fertile soil so that we can grow anything, so we can encourage mechanised farming," he continued.
More than 60 percent of Liberians depend on agriculture for their livelihood and multinationals like Malaysia-based Sime Darby have invested heavily in palm oil plantations. But the sector has languished due to low productivity, forcing Liberia to import more than 80 percent of its staple foods.
Weah is riding on a surge of hope and goodwill, but the task ahead is immense. Later this month, he will replace President Ellen Johnson Sirleaf, Africa's first elected female head of state and a Nobel Peace Prize laureate.
Liberia spent years recovering from civil wars from 1989-2003 that killed hundreds of thousands of people and then was hit more recently by an Ebola outbreak from 2014-16.