Hospitals in England take drastic measures to cope with winter pressure
Comments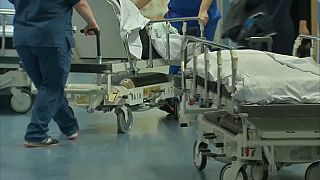 The UK government plans to postpone all non-urgent surgery in England until the end of the month as a response to winter pressure on the National Health Service.
Leading medics say they are experiencing the most strain they've been under in decades as a result of flu, bad weather and more patients suffering breathing problems.
NHS England say the move is an attempt to free up hospital staff and beds.
The health secretary, Jeremy Hunt, has apologised to patients in England affected by a decision.
He said it was "absolutely not" what he wanted but the move was "needed given the pressure hospitals are under during the busiest week of the year for the NHS."
He thanked NHS staff for their 'heroic' job, saying they were working 'beyond the call of duty'.
Reports of patients facing long waits for treatment on and ambulances queuing outside A&E prompted some hospitals to issue a 'black alert' allowing them to divert ambulances and call in extra staff.
Some ambulance services have also started asking 999 callers with less serious problems to make their own way to hospital, patients are being put on mixed sex wards and hospital's are bringing GPs into A&E to help deal with patients.
Officials estimated that extending the ban on non-essential operations could lead to 55,000 procedures being deferred.
The British Medical Association have criticised the move as a short-term fix which does not ensure that the NHS will keep up with rising demand in the long term.
Opposition Health Minister, Jonathan Ashworth accused the goverment of burying their heads in the sand and allowing underfunding and cuts to health and social care to continue, something Mr Hunt has denied.