Thousands march amid fears over NHS cuts
Comments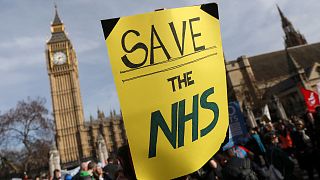 Tens of thousands turned out to protest in London amid growing concern about the state of the National Health Service.
The government claims it's investing more in the NHS while critics say per head spending is down and further cuts in services are being planned.
The crowds were addressed by the Labour leader Jeremy Corbyn.
"Our NHS is not in crisis because of overspending, it is in crisis because of underfunding. A crisis made down there in Downing Street."
Corbyn also vowed to fight for the right of more than 10,000 EU nationals who work in the NHS to remain in the country after Brexit.
The protesters say they will also fight any attempt to privatise services in the health sector.