Struggling to care: hospitals in crisis across Europe
Comments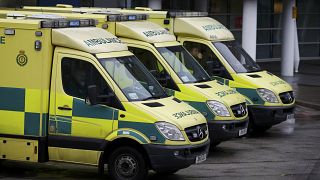 Cold weather, a flu epidemic and overcrowding are among the causes that have plunged hospitals in several European countries into a care crisis.
France
Le président fhollande</a> a convoqué une réunion ministérielle sur l'épidémie de grippe, notamment en présence de <a href="https://twitter.com/MarisolTouraine">MarisolTourainepic.twitter.com/sQv5AuxpcW

— Élysée (@Elysee) January 12, 2017
The French Health minister says the country is experiencing an "intense" flu epidemic.
Marisol Touraine says 142 hospitals are on full alert.
Describing the consequences as likely to be "heavy", Touraine urged hospitals to cancel all non-urgent operations.
"The pressure has reduced slightly since the measures were brought in," Touraine said after a ministerial meeting in Paris.
"We remain mobilized. we need to be remain alert. Hospitals today face a tense situation but they are by no means overwhelmed and we are coping with the pressure following the implementation of the measures we have taken."
At least 52 dead
627 admitted to hospital
142 hospitals out of 850 on full alert
(Figures: French Public Health Ministry)
Comment la grippe bouscule les services d'urgences : Libé a eu accès aux mails entre différents Samu de France https://t.co/Ev5ZX7BXdZpic.twitter.com/FH5zL7j7S0

— Libération (@libe) January 12, 2017
Greece
Greek health care is going through trying times.
The country's health ministry budget has been continuously reduced over the last three years, as part of economic reform.
There are reports of shortages of medicines and staff, equipment and supplies.
UK
In the UK 23 hospitals were said to have declared so-called 'black alerts' because of overcrowding, according to the The Guardian newspaper.
The country's National Health Service (NHS) generally sees a surge in demand during the cold winter months.
However, the British Red Cross says overcrowding in hospital emergency rooms has now become a "humanitarian crisis".
The organisation claims funding cuts by the Conservative government mean some patients cannot be discharged, putting pressure on hospitals.
Government supporters say the Red Cross is exaggerating the scale of the problem.
READ
Find out what to do if you have a cold or flu here (link in English)
WATCH
"Coughs and sneezes spread diseases" – a 1946 public information film from the UK.
La grippe saisonnière #AFPpic.twitter.com/jcFR6z59mm

— Agence France-Presse (@afpfr) January 11, 2017