Greece considers fate of Turkish coup soldiers
Comments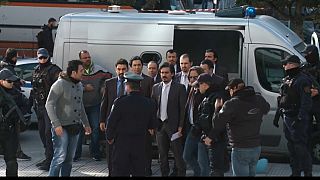 Greece has not ruled out extradition to a third country for a group of Turkish soldiers who fled there after Turkey's abortive coup in 2016.
Seven of the eight men applied for asylum and were rejected. They have been kept in preventive custody.
Nikoletta Kritikou, Euronews:
"The return of the 8 Turkish officials to Turkey is something that you have explicitly ruled out. Is your answer the same for their possible extradition to a third country?"
Dimitris Tzanakopoulos, Greek government spokesperson:
"I can't see why that should be so, but if there is a request for the extradition of the eight Turkish officers to a third country, meaning not to Turkey, we will follow the procedure set out by the law. That means the ultimate decision on extradition lies with the Greek courts."
Nikoletta Kritikou:
"If they stay in Greece, what will their legal status be? What papers will they need in order to work or to have their families come to visit them?"
Dimitris Tzanakopoulos:
"This depends on whether they will be granted refugee status or not. If they get refugee protection status, which will be decided by the independent Greek justice on the basis of their requests, they will have the same rights as those identified as refugees by the 1951 Geneva Convention."
The Greek courts have blocked two extradition requests by Turkish authorities, drawing an angry rebuke from Ankara and highlighting the tense relations between the NATO allies.