Brexit already causing problems for London restaurants
Comments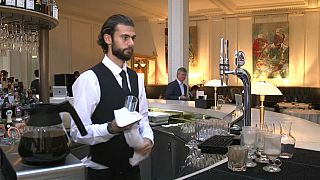 There are just fifteen months to go til Brexit and restaurants in central London, such as 1 Lombard Street, are already feeling the financial strain.
Managers say it's becoming more difficult to attract new workers as well as hold on to their current ones.
There are concerns the lack of clarity over EU citizens' future rights in the country is putting off applicants.
Soren Jessen, owner of 1 Lombard Street, says; "The sector cannot train enough people to fill up those jobs in five years time down the road. And immediately, we have seen a shortage of people applying just because they are not coming as they don't know what the future brings."
Just three of the sixty staff at Soren's restaurant come from outside of Britain.
London's catering industry is also having to keep up with new customer habits.
Since the 2016 Referendum, the UK's rising inflation and weak wage growth has caused household income to suffer.
This has left high street customers feeling the pinch.
Soren says; "There has been a change in people's behaviour. They dine quicker. Lunchtime is more about getting back to the office. Breakfast is hugely up as a way of having business meetings."
The weak pound and high inflation are a cause for concern across the service industry.
Food prices last month rose at their fastest pace in four years.
As Brexit talks focus on the UK's future trade relationship with the EU, restaurants and other food outlets are hoping things improve in the new year.