Pro-Palestinian protest in Paris
Comments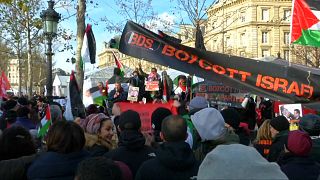 There was anger in Paris, on the eve of the Israeli Prime Minister's arrival. Hundreds of pro-Palestinian activists rallied against Benjamin Netanyahu's visit, which comes days after Washington's move to recognise Jerusalem as the capital of Israel. 
French President Emmanuel Macron labelled his US counterpart Donald Trump's decision 'regrettable', but it didn't seem to be enough for the protesters, some of whom carried photographs of Macron with the word 'accomplice' stamped across them. Tensions flared further with the arrival of a counter-rally, waving US and Israeli flags.
France's Foreign Minister, Jean-Yves Le Drian also spoke out against Trump's move. He and his counterparts in the EU will hold talks with Netanyahu in Brussels on Monday (December 11).