Watch: Huge fireball streaks across night sky
Comments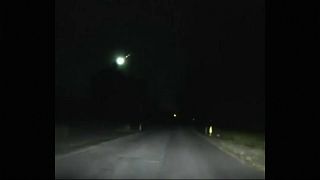 Copyright

Twp of Hamilton Police
A New Jersey police officer on night patrol has enjoyed the rare moment a huge fireball streaked across the night sky. 
The video, taken on Dec. 2 by the Township of Hamilton Police dashcam, shows the meteor streak across the road before disappearing behind a row of trees. 
The meteor sighting was confirmed by the American Meteor Society, which said it received hundreds of reports of the fireball from dozens of states in the Northeast.