No breakthrough in Venezuela political talks
Comments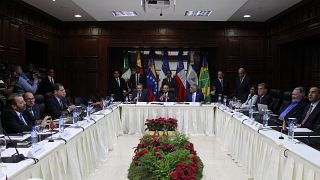 Few Venezuelans expected a breakthrough.
And none was forthcoming on Saturday as members of the government and opposition coalition met to try to resolve the country's long-standing and often bloody political crisis.
Talks in the Dominican Republic, however. will resume in two weeks time.
Information Minister Jorge Rodriguez told reporters the main news was that the two sides had actually sat down to negotiate in the first place.
"We arduously discussed topics of the utmost interest for Venezuela," he said.
The opposition is pressing primarily for a guarantee of free and fair voting in next year's elections.
"We have not come to negotiate," said Julio Borges, Speaker of the opposition-led congress.
"What we have come to do is to create the conditions so that, in the months ahead, each Venezuelan can make a choice at the ballot box, for change, for a path forward in our country."
The disparate Democratic Unity coalition failed to dislodge leftist President Nicolas Maduro in months of street protests earlier this year.
Foes accuse Maduro of exploiting dialogue to buy time, ahead of a likely re-election campaign in 2018.
Foreign ministers from Chile, Mexico, Bolivia, Nicaragua and host Dominican Republic have been acting as guarantors at the talks, held at the Foreign Ministry building in Santo Domingo.
with Reuters