Bosnian Croat war criminal Praljak died of 'cyanide poisoning'
Comments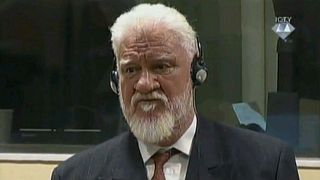 A preliminary autopsy indicates that Bosnian Croat war crimes convict Slobodan Praljak died of cyanide poisoning, Dutch prosecutors said on Friday (December 1).
Praljak said he had taken poison in The Hague's courtroom immediately after his conviction and 20-year sentence were upheld on appeal on Wednesday.
He later died in hospital.
In a statement, prosecutors said a toxicological test found that Praljak "had a concentration of potassium cyanide in his blood."
"This has resulted in a failure of the heart, which is indicated as the suspected cause of death," they added.
Praljak, 72, was one of six high-level wartime Bosnian Croat leaders appealing his sentence.
Dutch authorities are now investigating how the banned substance was smuggled into a high-security UN building.
With Reuters