Rescuers race against time to save Argentine submariners
Comments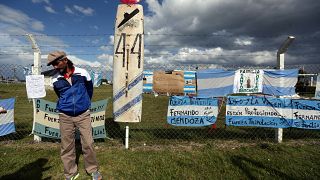 Fears are continuing to grow over the fate of a missing Argentine submarine and its 44-member crew.
The ARA San Juan disappeared last Wednesday in waters off Argentina's eastern coast after reporting an electrical malfunction.
The vessel was en route from Ushuaia, the world southern most city, to its base in Mar del Plata. It was about 480 km off the coast when it gave its last location.
With every day that passes the situation becomes more critical as the vessel's seven day oxygen supply will soon run out.
However, officials say calmer seas have helped rescue crews in their search: "Waves are not at a height of two metres and as such we can maximize the use of the sensors of all the varied equipment that we have at our disposal," explained naval commander Gabriel Galeazzi at an evening news conference in Mar de Plata.
Wind speeds have slowed and waves that rose as high as eight metres at the weekend have diminished significantly.
Argentina's Navy releases another video reportedly shot from the destroyer ARA Sarandí that shows the poor weather conditions during the search and rescue operations of the submarine ARA San Juan. pic.twitter.com/dLyW99CfTG

— Daniel Politi (@dpoliti) November 20, 2017
More than a dozen boats and plannes from Argentina, the United States, Britain, Chile and Brazil have joined the search.
As a Royal Navy Submarine Veteran my thoughts and prayers are for my Brother Submariners onboard ARA San Juan pic.twitter.com/FrfCOLLE7M

— John Rochford-Browne (@jrochfordbrowne) November 17, 2017
False dawn
Also on Tuesday, authorities investigated white flares spotted in the South Atlantic overnight. Searchers found an empty floating raft, and noticed the flares from a distance.
But the raft's brand suggested it did not belong to the ARA San Juan, which was equipped with only red flares for emergencies and green flares for other situations, the navy said.
Searchers have suffered other disappointments. Analysis of satellite signals and sounds detected by underwater probes, initially thought to be messages from the
crew, has found they did not come from the vessel.
"The sounds could be biological. We have discarded the possibility that it was a clanging of morse code against the hull of the submarine," navy spokesman Enrique Balbi told reporters in Buenos Aires.