UN warns CO2 levels reach record high
Comments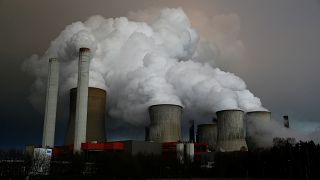 The United Nations has warned carbon dioxide in the Earth's atmosphere has reached a record high. Its World Meteorological Organization said the amount of CO2 grew in 2016 to a level not seen in millions of years.
It could prompt a potential 20-metre rise in sea levels and add three degrees to temperatures.
WMO Secretary-General Petteri Taalas warned:
"This is demonstrating that we are not moving in the right direction at all […] And this all demonstrates that there's an urgent need to raise the ambition level of climate mitigation if we are serious with this 1.5 to 2 degree target of [the] Paris Agreement."
It could make implementation of the landmark COP 21 Climate Accord even more complicated. Earlier this year, Donald Trump announced the US planned to pull out of the deal.
Environment ministers from around the world will meet in Germany next month to work on guidelines for the agreement, which aims to limit the rise in temperatures to "well below" two degrees Celsius above pre-industrial times.
The WMO warned emissions from coal, oil, deforestation and the El Nino weather pattern all contributed to pushing up CO2 levels.