Puigdemont proves elusive on Brussels trip
Comments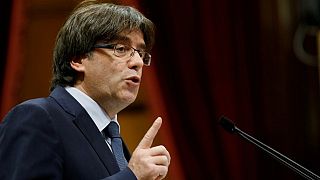 On Monday, journalists in Brussels played "Where is Wally?" to the tune of "Where is Carles?", as Catalan leader Carles Puigdemont was said to be in Brussels. But where?
The ousted Catalan President travelled to Belgium with several other members of his sacked administration. He hasn't been seen in public since Saturday.
"I can confirm Carles Puigdemont has appointed me as his legal representative, as he is currently in Belgium," said lawyer Paul Beckaert. I'm his lawyer in case he needs me. At the moment there are no specific dossiers I am preparing for him".
Catalans in Brussels with no political affilliation have gathered in front of their delegation's offices, Most seem saddened at the turn of events back home.
"Today is a sad day because a president that was democratically elected by the Catalan people is now in exile."
"It was a day of running around for the correspondents based in Brussels, as new rumours emerged regarding the whereabouts of the dismissed president Carles Puigdemont, from the headquarters of the Flemish party N-Va to the headquarters of the European Free Alliance group. But he remains unaccounted for," reports euronews' Ana Lazaro.