Spain accuses Catalonia's "rebels"
Comments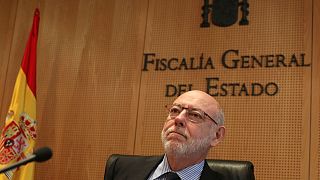 The government in Madrid appears to be in a hurry with Spain's Attorney General already calling for charges of rebellion, sedition and misuse of funds to be brought against Catalan leaders.
Under the Spanish legal system the requests of Chief prosecutor José Manuel Maza will be considered by a judge.
A charge of rebellion if proved brings with it a jail term of up to 30 years.
The mood on the streets of Barcelona was one of calm even if opions were divided.
"I'm not a judicial expert, but in order to have the crime of rebellion you need to have violence and there has been no violence, and therefore I think they are exaggerating."
"I think they will do well (to charge them). They acted illegally. There has been no respect for the law, and everyone who does not respect the law has to pay the price that they deserve."
Catalan's secessionist leaders declared independence on October 27. Spain's central government responded by imposing direct rule, and arranging fresh elections in the region. So far employees have ignored calls for civil disobedience and have turned up for work while parties which backed independence have agreed to take part in the December poll.
"Outside Catalonia… there is a very, very strong sentiment against Catalan independence" https://t.co/n0OjjiBGxq

— Democracy Now! (@democracynow) October 30, 2017