Ousted Catalan leader 'not in Belgium to seek asylum'
Comments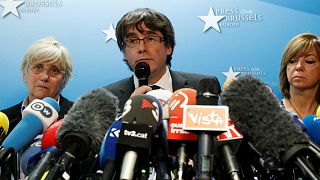 Deposed Catalan leader Carles Puigdemont today (October 31) made a public appearance in Brussels in which he said he was not attempting to seek political asylum.
As he took the stand in the Belgian capital, the delegation was still referring to him as "president", despite the fact that he has been ousted.
Puigdemont said he was in Brussels because he "faced a possible jail sentence" and so "decided to err on the side of caution".
He continued that the political leaders were there to put forward the Catalan issue in the heart of European Union.
Concerning charges of rebellion, sedition and misuse of public funds, brought against Catalan politicians, Puigdemont said he was ready, along five others present in the Brussels press room, to face up to charges and they would not "won't shy away from this responsibility".
Prior to the press conference, rumours circulated that the deposed leader would ask for asylum in Brussels, a fact that he brushed aside during questions.
Euronews asked Puigdemont under what conditions he would go back to Catalonia, to which he replied that his return depended on guarantees from Madrid.
On the subject of the Spanish government's triggering of article 155 on Friday, the Catalan leader labelled the move "incredibly unfair".
To summarise the situation in Catalonia at the present, Puigdemont said: "It was clear to the world that democracy was not respected."
He concluded that his government was ready to accept the result of the election and asked Rajoy if he'd do the same.
Watch the full speech here: