US opioid crisis: 'national shame', but not yet national emergency
Comments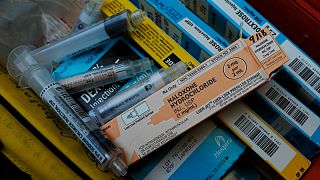 "Working together we will defeat this opioid epidemic", the US President has promised. But Donald Trump stopped short of declaring a national emergency, despite pledging to do so in August. Such a declaration would have opened up access to federal funds.
Instead, as he has labelled the escalating problem of drug use a 'national shame' and a public health emergency.
Rob Brandt, who lost his son to drugs in 2011, runs the Opioid Recovery Center. He called for stronger action.
"It is a national emergency and I think it should be treated as a national emergency. But, the reality of it is, in understanding politics and how they play into things, the fact that we're moving to a step of at least having it declared a health emergency, we'll take that as a great step, a good incremental step, but we need more leadership from Washington", said Brandt.
The drug crisis claimed the lives of at least 59,000 Americans in 2016 alone. Many of those affected are calling for money to be directed towards prevention. Trump announced a plan to tackle the situation.
"I will be pushing the concept of non-addictive painkillers very, very hard. We give away billions and billions of dollars a year and we're going to be spending lots of money on coming up with a non-addictive solution", he vowed.