Theresa May's 'dinner diplomacy'
Comments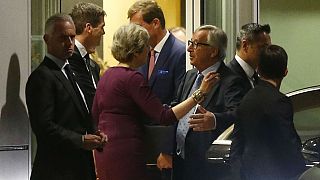 British Prime Minister Theresa May's last minute burst of diplomacy before this week's EU summit has produced a joint wish to end the deadlock in the Brexit talks.
In a statement after their dinner in Brussels, May and president of the EU Commission Jean-Claude Junker said their meeting had been "constructive". Both also agreed that efforts to accelerate the negotiations "should" be stepped up in the coming months.
Whether that's a forecast or a forlorn hope remains unclear.
May wants to talk about a future trade deal, but Brussels wont until she details how much she's willing to pay to settle divorce obligations.
Meanwhile time ticking down to Britain's withdrawal from the EU in March 2019.
Morten Morland on Theresa May visiting Brussels to revive Brexit negotiations – political cartoon gallery in Putney pic.twitter.com/SDKlSvMaWQ

— Political Cartoon (@Cartoon4sale) October 16, 2017