Hundreds of opposition activists detained in Russia
Comments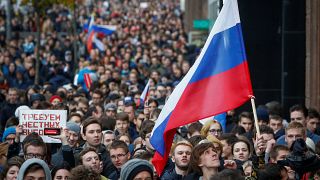 Police have detained more than 200 opposition activists for taking part in a wave of anti-Kremlin protests across Russia in support of jailed opposition leader Alexei Navalny.
Under grey skies, over two thousand people gathered in central Moscow's Pushkin Square and chanted 'Russia will be free' and 'Russia without Putin.
"We are battling for Russia to be free from 'Putinism,' because the power we have now is feudal. We have no freedom of speech, no freedom of choice," said one protestor.
Authorities had refused to approve most of Saturday's rallies, but Navalny says Russians' right to protest is enshrined in the constitution.