Dzimitry Minkou puts on golden performance at Tashkent Grand Prix
Comments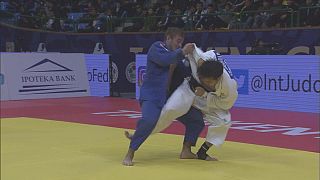 Man of the day
Belarussian Dzimitry Minkou took gold in style in the under 66 kilograms category on day one of the Tashkent Grand Prix.
This was his first world judo tour gold medal and in doing so, he was our man of the day.
He defeated Mongolia's Kherlen Ganbold in the final of after a thrilling contest.
After taking the lead with a great counter attacking waza ari, he added a second to his tally later in the bout to come out the clear winner.
At just 21 years of age it was a great moment for the Junior European champion.
Minkou said: "Mongolian judoka are always, always strong. But I have some good techniques and I was smarter than him today and now I have this gold medal."
Woman of the day
Our woman of the day was Israel's Betina Temelkova, who took on Poland's Agata Perenc in the final and came up with this fantastic ippon for the win and the under 52 kilograms title.
Another youngster at just 20 years old for whom Uzbekistan marked a first world judo tour gold medal.
And yet another promising talent emerging from Israel's ever growing judo team.
A proud Temelkova said: "This techinque is something special it's everyone has something special and this is mine. It gives me a lot of confidence, is my first senior medal I hope to continue same way and to make proud my country."
Under 48kg
But it was a judo veteran who took gold at under 48 kilogram's. Mongolia's 2013 world champion Urantsetseg Munkhbat adding another world judo tour gold to her collection as the world number one defeated Serbia's Milicia Nikolic in the final by ippon with a pin.
Under 60kg
At under 60 kilograms there was a gold medal for Azerbaijan's Vugar Shirinli after he overcame Russia's Islam Yashuev in the final with a clever waza ari before holding on for the win.
He was awarded the gold medal by Daniel Kail president of Northfoam.
Under 57kg
Anna Borowska who won gold in the under 57kg category came up with our move of the day at the semi final stage. She beat Italy's Giulia Caggiano with a wonderful single sided Osoto gari.
Her form continued and she stood on top of the podium as the Polish anthem played out.